MADE IN AMERICA


See us at the
2020 AHR Expo in Orlando
Feb. 3-5, 2020
For walk-in and reach-in coolers and freezers
Continuously variable evaporator fan speed automatic control
Maximum efficiency, reduced compressor run time, improved product shelf life
PWM and DC outputs
Multi-Motor Capable
Compatible with all variable speed EC motors (ECM)
This is a retrofit. Replace your fan (if needed) and the fan control input with the 759 and save energy. All necessary items supplied by Hoffman Control.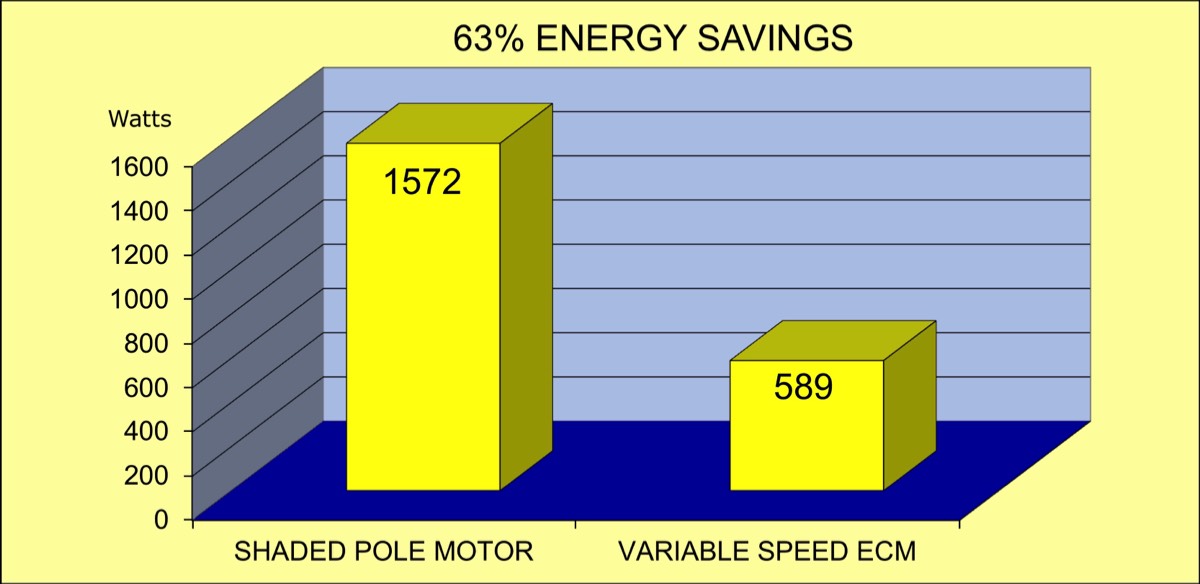 The chart above shows the average power consumption in Watts for a mid-temperature walk-in cooler as tested in our laboratory. This represents a 63% reduction in energy. Although other ECM environments demonstrate some reduction in energy compared to shaded pole motor evaporator fans, this controller has shown the most efficiency since it continuously optimizes the fan speed based on current operating conditions using an adaptive algorithm.
This electronic head pressure control modulates condenser fan motor speed thereby varying the air volume through the condenser. The control monitors the head pressure by sensing the sub-cooled liquid line temperature.
There are two temperature inputs and three outputs (PWM, 0-10 VDC and 10-0 VDC) to control the ECM or VFD variable speed fan motor.
Two temperature parameters can be set to optimize the range of fan speeds so that as the ambient temperature changes, the fan speed is varied in order to maintain the correct head pressure.
This improves system performance while saving energy and eliminating compressor slugging. The non-invasive temperature sensors require no system penetration.
If you need to control multiple motors, or have more or other input sensors, or have Modbus communication, we've got a
product for that
also.
Operate up to 12 stages of fans, compressors, or heaters
Continuous output variation possible with one variable unit added to the mix
MODBUS RTU communication with building automation systems
Up to six sensors for monitoring inputs with combining options
Menu system allows easy set point adjustment including hysteresis
Secondary set of set points can be used based on an input contact closure
32 character LCD display
12 relay outputs plus modulating output (PWM and 0-10 VDC or 10-0 VDC)
Inputs can be temperature, pressure, 0-10 VDC, or contact closures
Protects single phase and 3 phase motors from current draw problems
Uses current transformers to digitally sense currents
Two temperature sensors can also be used for thermal monitoring
MODBUS RTU communication with building automation systems
Trip point can be set based on current flow, current imbalance, temperature
Current trip timing is based on energy into system after trip set point is reached
Menu system allows easy adjustment of parameters and set points
32 character LCD display
Selectable number of trips with automatic reset
Alarm signal
Can read and write all values over MODBUS, including manual reset
Control the speed of an ECM motor locally or remotely
MODBUS RTU communication with building automation systems
Closed-loop control mode will maintain motor speed independent of loading
LED display of motor rpm
PWM and DC outputs plus GO Signal
For PSC or shaded pole single phase, single speed motors
Optimizes fan speed to improve system performance and save energy
For three phase induction condenser fan motors
Optimizes fan speed to improve system performance and save energy
For PSC or shaded pole motors
Low cost manually adjustable proportional speed control
Voltage ranges from 120 to 480 Volts, current up to 15 Amps
For EC Motors
Low cost manually adjustable speed control
0-10 VDC output to motor
For EC Motors
Low cost manually adjustable speed control
PWM output to motor
For EC Motors with PWM input
Allows replacement of discrete speed PSC or EC motors with variable speed EC motors
Heating and cooling speeds are adjustable
For EC Motors with PWM input
Allows replacement of discrete speed ECM with variable speed ECM
All four speeds are adjustable
For EC Motors
Control input is DC voltage or current
PWM output to motor
For PSC and shaded pole motors
Control input is DC voltage 2-10V
Minimum speed adjustment
Continuous flow switch
115/208-230V, 10 amps