The 770-PSC Control offers a way to add existing single phase PSC or shaded pole motor fans to a building automation system. The 770-PSC control measures the motor's RPM, using an easy to attach sensor, and can adjust the motor's speed to match a chosen set point. The control can be operated locally using the 32 character LCD display and pushbuttons, or it can be operated over a Modbus RTU connection.

There are two modes of motor speed control available. In manual mode (open loop), the control provides a fixed power level to the motor indicated by a Speed Index ranging from 0 to 100%. The actual motor rpm will vary with changes in loading. In automatic mode (closed loop), the control uses a PI feedback algorithm to drive the sensed motor rpm to match an rpm set point (300 rpm minimum).

The 770-PSC is normally used to set and maintain the speed of PSC or shaded-pole motors between a selectable minimum speed and full speed. It uses a triac for power line switching to reduce motor speed. An external transformer (24 VAC) must be supplied to power the control.

The motor used with the 770-PSC Control must accept a phase proportioning input and be able to operate at minimum rpm for extended periods of time without overheating.

Remote and local control of the speed of single phase PSC or shaded pole motors of up to 10 amps; 115, 208/230, or 277 VAC.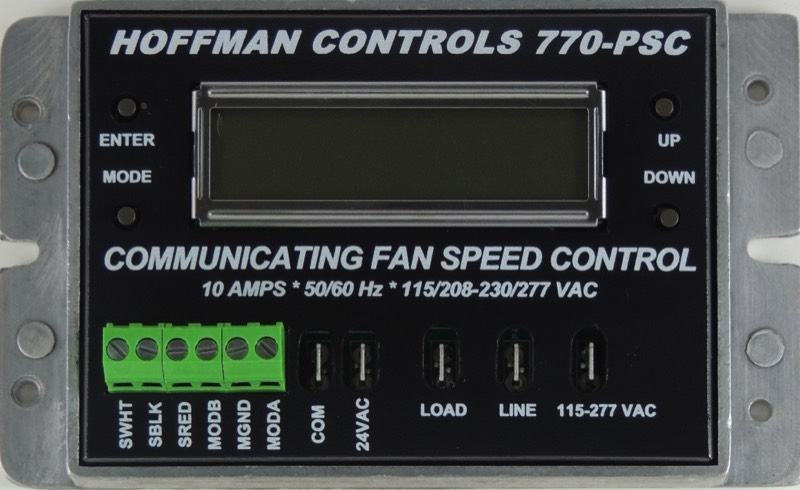 Control the speed of a PSC or shaded pole motor locally or remotely
Modbus RTU communication with building automation systems
Closed-loop control mode will maintain motor speed independent of loading
Remote sensing of motor rpm using included easy to attach sensor
Motor voltages of 115 to 277 VAC
Motor currents up to 10A
Open-loop control mode will set the percent of maximum control signal (speed index)
Large 32 character LCD screen for readout of values and setting parameters using a menu system
LCD display of motor rpm
All parameters can be set or read remotely and all input and output values can be read remotely
Modbus baud rate, slave ID, and parity can be set using the menu system