Head Pressure Control for Induction Motors
The electronic head pressure control modulates the condenser fan motor speed by varying the air volume through the condenser consequently regulating head pressure for proper heat rejection in low ambient temperature. The control maintains the pressure differential at the expansion valve for proper superheat. It helps preclude evaporator coil freezing and eliminates liquid and oil migration that damages or destroys compressors. The control monitors the head pressure by sensing excessive liquid sub cooling and varies the air volume through the condenser. In other models the fan speed is controlled by a DC input signal. In heat pump installations, the heat pump will override the fan control and allow full speed fan operation.
Typically utilized on PSC or split phase condenser fan motors in air conditioning and refrigeration systems.
Single phase, single speed
Open frame, PSC or shaded pole
Direct drive, sleeve or ball bearing
155/208-230/460/600 VAC motors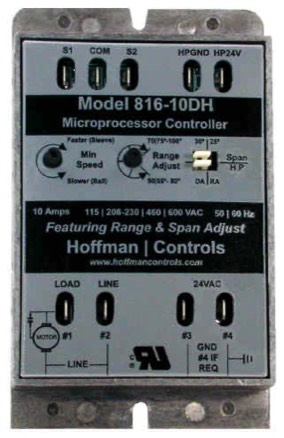 Improves system performance while saving energy
Non-invasive sensor requires no system penetration
Eliminates compressor slugging (oil migration)
Sensing is independent of all refrigerant types
Full voltage start to ensure proper fan rotation
Cycles fan off after minim flow is obtained
Simple field calibration
Optional weatherproof kit (NEMA 3R)
Commercial A/C
Computer rooms
Grocery and convenience stores
Frozen food storage
Humidity control
Glycol coolers
Why Measure Head Pressure using Temperature instead of Pressure?
Many people assume that the best way to control the head pressure from a compressor is to directly sense the line pressure using a sensor inserted into the liquid line.
Data Sheets for Models Available
814-10EH 10 Amp electronic head pressure controller with up to two temperature sensors, with transformer
816-10DH 10 Amp electronic head pressure controller with up to two temperature sensors, requires 24VAC power
816-10DH(DC) 10 Amp electronic head pressure controller with 2-10 VDC input, requires 24VAC power, can be used with 851-MS for multiple refrigerant circuits
Other Information for these Models