The 851-MS Multiple Sensor Selector is an electronic signal selector designed to provide low ambient control of multiple refrigerant circuits for air-cooled condensers. Automatically selects highest liquid line temperature for use in modulating condenser fan speed and/or sequencing multiple fans when used with the 861-ASQ Sequencer.
Typically utilized with the 861-ASQ Sequencer or the
816-10D (HPVD)
to monitor multiple liquid lines in order to control head pressure in low ambient temperature conditions.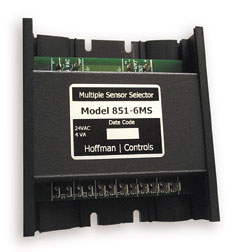 Multiple liquid line sensing
Adaptable to all refrigerant types
Controls common airflow of multiple refrigerant circuits
Eliminates on/off fan cycling common with pressure limit controls
Output for 816-10DH(DC) control provided
Output for 861-ASQ Sequencer provided
Why Measure Head Pressure using Temperature instead of Pressure?
Many people assume that the best way to control the head pressure from a compressor is to directly sense the line pressure using a sensor inserted into the liquid line.
Data Sheet and Instructions