The 861-ASQ Series Sequencer is a direct-acting electronic step controller used to control multiple condenser fan motors in incremental, sequential steps for low ambient control of air-cooled condensers.
Liquid line sensing
Multiple input/output functions
Adjustable staging
LED stage indicators
Momentary loss of power protected
Accepts input from 851-MS Multi-Sensor Selector
Output for 816-DH(DC) Head Pressure Controller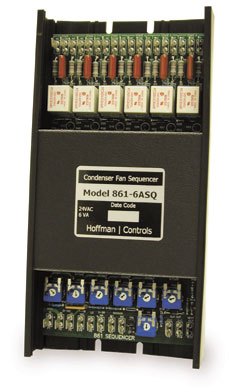 Why Measure Head Pressure using Temperature instead of Pressure?
Many people assume that the best way to control the head pressure from a compressor is to directly sense the line pressure using a sensor inserted into the liquid line.