The 905 Series Power Switch is designed for resistive heating applications. These SCR (triac) controllers fire at zero voltage crossing and are used for connecting resistive loads to line voltage. Firing at zero voltage reduces the radio frequency interference (RFI) from these units.
A master unit (905-M) can directly accept proportional analog signals. It includes a
901-E Multiple Input Logic
card mounted on the master for driving the power switch. Additional circuits that are controlled by the same input can be connected to a slave unit (905-S) that accepts the pulse width modulated signal provided by the master.
These units can be used in any connection arrangement or combination of phases without regard to phase order. They can be used in three phase applications, in-line, Delta, or Wye. The 905 series comes in a single phase (one power switch) and three phase (two power switch) version. Various models are rated at currents up to 48 amps and voltages up to 480 volts.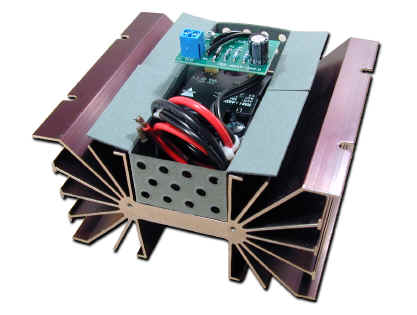 Each power switch incorporates its own zero-firing logic, providing any combination or connection arrangement for single or three phase applications.
Up to eight power switches may be controlled from one 901-E Series Logic.
The 901-E included with the master unit accepts voltage or current input.
No phasing required
905-120/277 Power Switch, 277V, replaces 900 Series, uses 901-D interface only
905-347/480 Power Switch, 480V, replaces 900 Series, uses 901-D interface only
905-M480VmA(25)1 Master SCR, 25A/480V, one triac (single phase), comes with 901-E
905-M480VmA(25)2 Master SCR, 25A/480V, two triacs (for three phase), comes with 901-E
905-M480VmA(48)1 Master SCR, 48A/480V, one triac, comes with 901-E
905-M480VmA(48)2 Master SCR, 48A/480V, two triacs, comes with 901-E
905-S480(25)1 Slave SCR, 25A/480V, one triac
905-S480(25)2 Slave SCR, 25A/480V, two triacs
905-S480(48)1 Slave SCR, 48A/480V, one triac
905-S480(48)2 Slave SCR, 48A/480V, two triacs
905-TCO Thermal Cut Out (90C) for 905 Series SCR
Data Sheets and Instructions