870-10D Head Pressure Control
ECM/PSC Fan Cycle Switch for Head Pressure Control
This control is designed for condenser fan motors that do not have the capability of variable speed. Head pressure control for proper heat rejection in low ambient temperatures is achieved by switching the fan on and off as needed. The control monitors the head pressure by sensing the sub-cooled liquid line temperature. All control parameters are embedded within the device and no field adjustments are required. (For use of continuously variable speed, see the following products:
814/816 Series
for PSC motors,
880-ECM Series
for EC motors.)
Can be used for both ECM and PSC single-phase condenser fan motors for maintaining adequate pressure differential between the high and low side pressures for TXV expansion valves.
ECM (brushless dc) Motors
PSC and Shaded-Pole Induction Motors
115/208-230 volts AC 50/60 Hz
Supplies up to 10 amps for fixed speed ECM or PSC condenser fan motors
Non-invasive sensor requires no system penetration
A fixed span range allows for thermal expansion valve TXV applications
Eliminates compressor slugging and oil migration
Sensing is independent of all refrigerant types
Full voltage "torque start" ensures proper fan rotation
Simple field installation
Optional Adjustable Sensor Simulator — Part Number 510-0027-000 is available for manual evaluation of motor control
Optional Weatherproof Kit (NEMA 3R) — Part Number 545-0202-007
Commercial A/C
Computer rooms
Hospitals
Grocery and convenience stores
Frozen food storage
Humidity or temperature sensitive environments
Cooling tower fans, glycol coolers
Liquid heat exchangers
Data Sheets for Models Available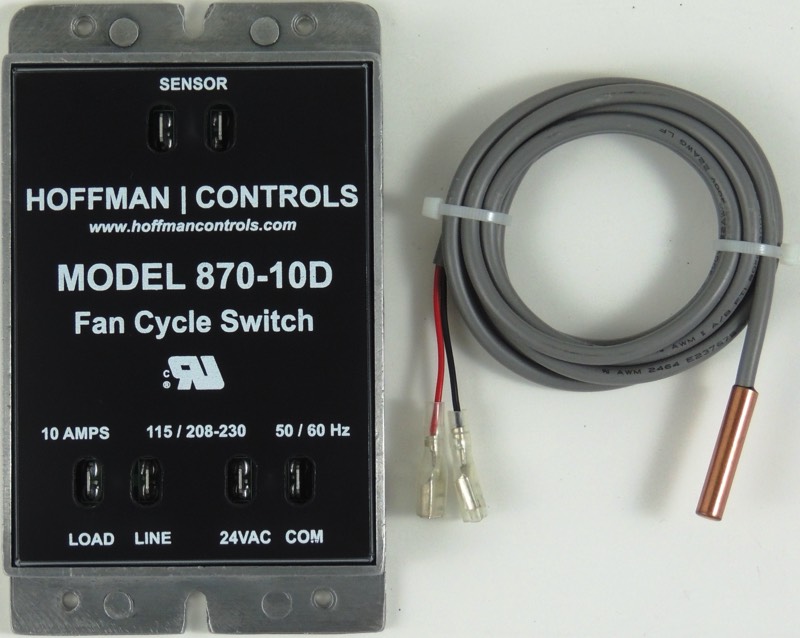 Why Measure Head Pressure using Temperature instead of Pressure?
Many people assume that the best way to control the head pressure from a compressor is to directly sense the line pressure using a sensor inserted into the liquid line.